The 2021 Vintage was a treasure not only because of the perfect growing season but because we gained access to two amazing vineyards.  Thus, two amazing offerings from two distinct growing appellations. 

---
Journeyman Pinot Noir, 2021 Zio Tony Vineyard        Russian River Valley Appellation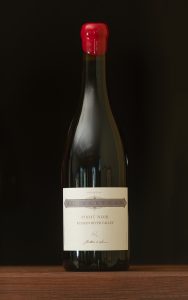 140 cases
$60.00
Our Journeyman Pinot Noir Zio Tony Vineyard is farmed by our good friend George Martinelli. The iconic vineyard has been in their family for generations.  We purchase Chardonnay from the vineyard but just a month prior to harvest 2021, a grower pulled out of his Pinot Noir contract and George asked us if we knew someone who might want it….EASY…YES…US!  The price was steep but we decided to wait until we hosted George and his wife front row at a Kenny Chesney concert before negotiating….and that is sometimes how one gets Pinot from the Zio Tony Vineyard!
A gorgeous classic Russian River Pinot with  red and black cherry flavors, currant and sweet leather.  The Francios Freres French oak provides a vibrant, strong structure.
Journeyman Pinot Noir, 2021 Perli Vineyard,        Mendocino Ridge Appellation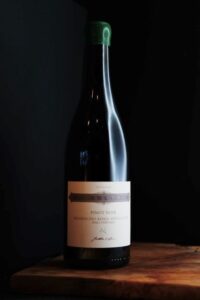 140 cases
$60.00
Our Journeyman Perli Vineyard Pinot Noir is grown by Steve Alden high atop the Mendocino Ridge.  We have visited this ranch for over 25 years with our friends, Pete even nudged Steve to plant Pinot here rather than zinfandel.  Majestic redwood trees top the ridges here and in the distance is the foggy Mendocino Coast.   Steve calls it growing grapes in the wild.   And thus, this full bodied wine  exhibits flavors of red cherry, black tea, cedar and roses.  The Francios Freres oak provides a vibrant, strong structure.
---
Purchase Inquries:
---
THE VINEYARD
Our Pinot Noir comes from an iconic old vine vineyard we have worked with for over a decade. The Thomas Road Vineyard, meticulously farmed by the Dutton Family, was planted in 1986, the year that Peter graduated with his enology degree. With a foundation of Goldridge Soils, this benchland site sits within the Southern Edge of the Russian River Valley. Southwestern exposure and morning fog create ideal growing conditions and, because of its age, Thomas Road gives us clustered, concentrated fruit.
WINEMAKING
The grapes are picked at night, de-stemmed, and double-sorted to ensure that only the best fruit moves forward, and gently poured into four-ton open-top tanks. Here, the juice and must are soaked at fifty-five degrees for five days, pumped over twice, and punched down once per day.  On day six, we turn off the cooling, inoculate with a starter culture, and begin fermentation.  During this period, we punch down and pump over every 6 hours until we get down under 3 brix. We then age the Pinot Noir in Francoise Freres barrels, using 50% new and 50% one-year-old.
---